Have you picked any peaches yet this summer?  I haven't found a place where I can actually pick them myself, but there are plenty of beautiful peaches in the stores these days.  This is a nice peach scone recipe!  Scones are meant to be plain-tasting.  The sugar coating on top adds an extra bit of sweetness.  If you'd like to make some scones ahead, check out the directions below.  The nice thing about freezing them is that you can thaw and bake 1 or 2 at a time as you need them or bake the whole bunch!  It's your choice!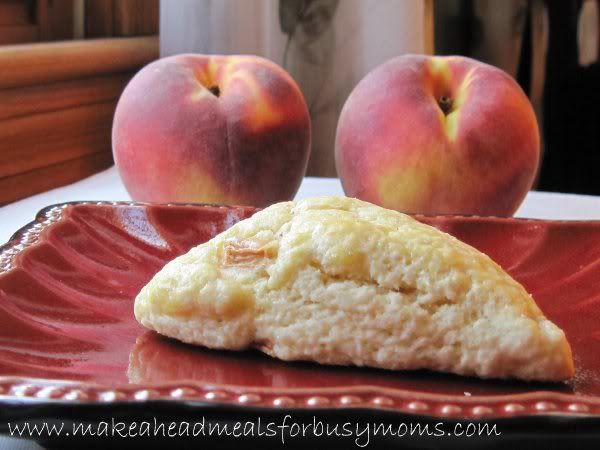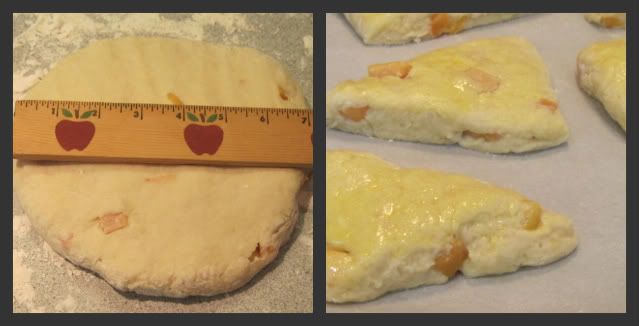 Peach Scones
Ingredients
2 eggs, divided
1/2 cup buttermilk
1 teaspoon vanilla extract
2 cups flour
1/2 cup sugar
2 teaspoons baking powder
1/4 teaspoon salt
6 tablespoons cold unsalted butter, diced
2/3 cup ripe peaches, diced
*additional sugar to sprinkle on top
Directions
1.  Preheat the oven to 375° F.  Line a large baking sheet with parchment paper; set aside.
2.  In a medium bowl, combine 1 egg, buttermilk, and vanilla; set aside.
3.  In a large mixing bowl, combine the flour, sugar, baking powder, and salt.  Add the cold butter to the flour mixture and mix on medium speed until well blended.
4.  Add the liquid ingredients to the dry ingredients and mix on low speed until combined.  Stir in the peaches.
5.  Dust the counter with flour.  Dump the batter on the floured counter.  Knead about 7 or 8 times into a ball.  Add a bit of flour if it's too sticky.  Flatten into a 7-inch circle.  Cut into 8 wedges.
6.  Place the wedges on the baking sheet 2-inches apart.
7.  Beat 1 egg and brush the tops of the wedges with the egg wash.  Sprinkle the tops with sugar.
8.   Bake about 15 minutes or until an inserted tooth pick comes out clean or with a few crumbs attached.
Makes 8 scones.
Make-Ahead Directions
Follow directions through step #6.  Cover with plastic wrap and freeze about 3 hours.  Place the wedges in a labeled freezer bag.  Freeze up to 2 months.  When you're ready to cook them, place as many as you want on a baking sheet and thaw at room temperature (about 30 – 60 minutes).  Brush with egg wash, sprinkle with sugar, and bake as directed.
This recipe is part of Mommy's Kitchen Pot Luck Sunday. Head over there now and check out the great recipes!