Do you ever buy these cute Christmas mini loaf pans? I buy a bunch for $1 each and give them to friends for Christmas with a homemade bread in them. I made Mini Gingerbread Raisin Loaves last year for Christmas gifts. (That's a great recipe!) There's so many pretty ways to package these breads for gift-giving. You can buy a roll of cellophane and gather it with a bow or buy a Christmas cellophane bag to slide it into. They have cute packaging products at Michael's Craft Store and iparty!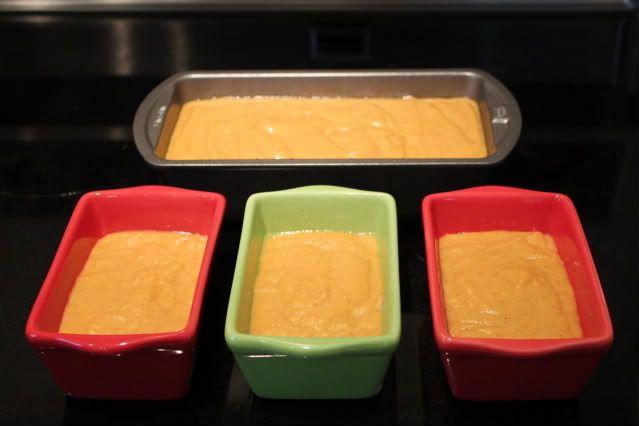 This recipe makes one 8 x 4 bread and three 3 x 5 breads. Check for cooking times below.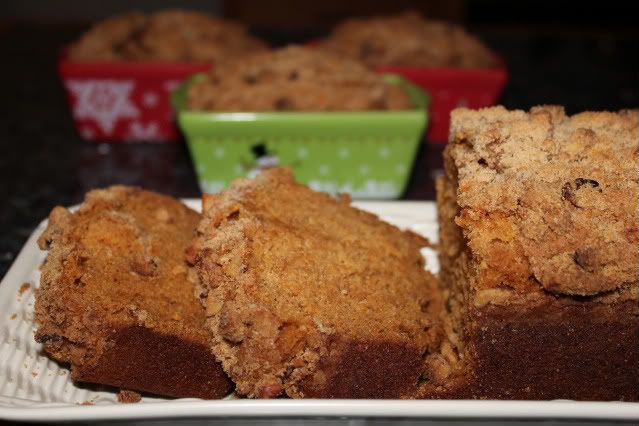 Don't let the delicious crusty streusel topping fool you. These breads are very moist inside and keep well for days. You can even freeze them ahead for the holidays! I love them!
Sweet Potato Streusel Bread
Ingredients
2 1/3 cups sugar
3 1/3 cups flour
2 teaspoons baking soda
1/2 teaspoon baking powder
1 1/2 teaspoons salt
1 teaspoon ground cinnamon
1/4 teaspoon ground cloves
2 cups (cooked and cooled) mashed sweet potatoes
2 large eggs
2/3 cup vegetable oil
2/3 cup water
Streusel Topping
1 cup chopped walnuts
1/2 cup flour
1/2 cup light brown sugar, packed
1/2 teaspoon cinnamon
2 tablespoons butter, melted
Directions
1. Preheat the oven to 350°F. Spray the inside of the bread pans with nonstick spray and set aside.
2. In a medium bowl, combine the sugar, flour, baking soda, baking powder, salt, cinnamon, and cloves. Set aside.
3. In a large mixing bowl on medium speed, beat the potatoes, eggs, oil, and water until smooth. Add the dry ingredients (from step #2) to the potato mixture. Mix until combined. Pour the batter equally into the bread pans and set aside.
4. To make the streusel topping, combine all of the streusel ingredients in a small bowl until well blended.
5. Sprinkle the streusel topping evenly over each bread.
6. The 3 x 5 breads take about 40 – 45 minutes to cook. (Test them in the center with a tooth pick and remove them when the tooth pick comes out clean.)
The 8 x 4 bread takes about 55 – 62 minutes to cook. (Be sure to test them with a tooth pick.)